Welcome to my website "Italian kitchen club" Italian delicacies and creative cuisine.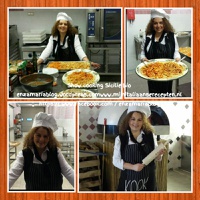 My name is Carmen and I am from Catania, in Sicily.
I live in the Netherlands since 2002 and I love to cook and prepare traditional italian meal.
As a child I was already fascinated by cooking and I often helped my mother to put the best and tastiest Italian dishes on the table.
With this passion for Italian cuisine, I first opened a blog to share my recipes with other people.
Since that generated a lot of interest, I decided to create this website.
On this website you will also find all my Italian family dishes and many extras.
My idea behind this website is to share Italian cuisine with everyone who loves Italian cuisine.
I would like also to give you workshops at your home and you will learn how to prepare the real Italian dishes.
Everything goes according to agreement and I can visit you in advance to get you to taste some recipes.
So if you have a party to celebrate; dinner, children's party, anniversary, birthday and so on, then I can also cook for you, for example; complete Italian dishes, aperitifs, snacks, pasta, meat, salads, pizzas and desserts. Everything of course in good consultation.
Do not hesitate and respond immediately!!!