Orange chicken slices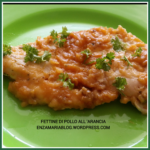 Fettine di pollo all'arancia
Orange chicken slices
A delicious second course based on chicken and oranges ....
Excellent and light for a summer lunch or an outdoor picnic.
Ingredients
Instructions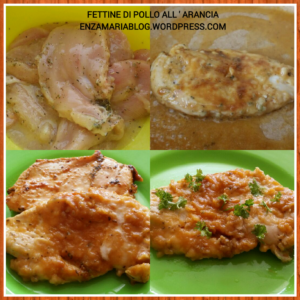 Orange chicken slices
Ingredients:
500 gr of sliced chicken breasts
The juice of three oranges.
half a glass of white wine
Flour
1 teaspoon sugar
Chopped parsley
Butter
salt
Method :
In a container, let the chicken slices marinate with half the orange juice, the teaspoon of sugar and the salt in the refrigerator for at least an hour.
Then flour the chicken slices and toss them in a pan with a knob of butter. Add the remaining orange juice to the slices and add the white wine.
Cook over medium heat for about 5 minutes until the sauce has thickened. A little chopped parsley and the dish is ready. Serve immediately !!
Buon appetito!!!
Add to Favourites