Spaghetti garlic and oil with anchovies and aromatic crumb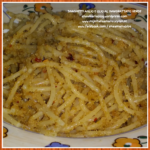 Spaghetti aglio e olio con acciughine e mollica aromatica
Spaghetti garlic and oil with anchovies and aromatic crumb
This is my and my mom's recipe.
It is prepared in a few minutes and has all the flavor of the Mediterranean and of my Sicilian cuisine!
Ingredients
Instructions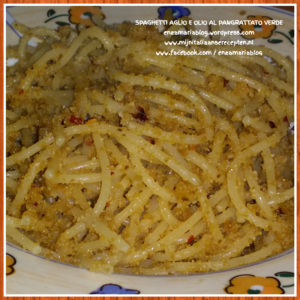 Spaghetti garlic and oil with anchovies and aromatic crumb
Ingredients:
300 gr of Spaghetti or linguine
2 cloves of garlic
Olive oil
Chili pepper
Parsley
4 anchovy fillets
Fennel seeds
1 tablespoon of limoncello
For the aromatic crumb:
100 gr of Breadcrumbs
1 clove of garlic
Olive oil
Fresh basil
Rosemary
Mint
Grated peel of one lemon
30 gr of pine nuts
50 gr of grated Pecorino
Method :
Season the garlic in the olive oil with the chilli pepper, without burning the garlic.
Add the anchovies, the fennel seeds and cook for 5 minutes. Deglaze with limoncello and decorate with a little chopped parsley. Turn off the heat and keep aside.
In another pan, toast the breadcrumbs with garlic, oil, pine nuts and lemon zest.
Add the chopped fresh basil, mint and a little rosemary. Turn off the heat and keep aside.
Cook the spaghetti al dente and drain.
Then in a large pan, sauté the spaghetti with the garlic and oil prepared previously.
Add the aromatic breadcrumbs and the grated pecorino.
Serve immediately.
Buon appetito!!
P.S. I have not used salt due to the presence of anchovies and pecorino.
Add to Favourites