Spaghetti with garlic and oil and mullet roe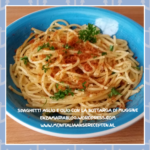 Spaghetti aglio e olio con la bottarga di muggine
Spaghetti with garlic and oil and mullet roe
A refined and quick recipe, but one that must be done carefully and above all with love ...
To enhance the flavor of the bottarga I did not add the breadcrumbs.
Ingredients
Instructions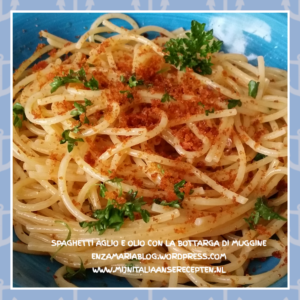 Spaghetti with garlic and oil and mullet roe
Ingredients:
400 gr of spaghetti
Mullet roe
1 anchovy
half a glass of dry white wine
4 cloves of garlic
Olive oil
Chili pepper
Chopped parsley
Salt to taste.
Method :
In a saucepan, brown the whole garlic cloves in the olive oil without burning them; remove them, add the anchovy, the chilli pepper and add the white wine for a few minutes.
Cook the pasta al dente, drain and cook in the olive oil and the other ingredients.
Sprinkle with chopped parsley and turn off the heat.
At this point you can grate the bottarga on the spaghetti and serve immediately.
Buon appetito!!
Add to Favourites