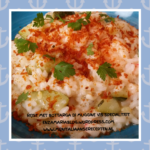 Risotto con la bottarga di muggine zucchine e gamberi
Risotto with mullet bottarga, courgettes and prawns
A tribute to Sardinia….
Here is my recipe, the risotto with mullet roe and prawns.
To try. ..it's exquisite. You feel the taste of the sea and it is a true poem.
Ingredients
Instructions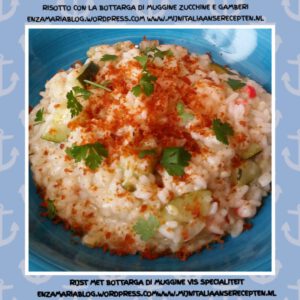 Risotto with mullet bottarga, courgettes and prawns
Ingredients:
400 gr of Carnaroli white rice
Mullet roe
Vegetable broth (made with carrot onion and celery)
White wine
1 minced shallot
Olive oil
Salt and pepper
half a courgette
200 gr of prawns
Parsley to decorate
Method :
Clean the prawns and cut the vegetables.
Prepare the vegetable broth with carrot onion and celery.
In a saucepan brown, with olive oil, the thinly sliced ​​courgette with the shallot. As soon as the courgette has softened, add the prawns that you have previously cleaned. Add the white wine. Salt and pepper. Cook for about 10 minutes.
Then in another pan, toast the rice with olive oil and the chopped shallot.
Add the white wine.
Stretch with the vegetable stock and cook for about 15 minutes.
Add the courgettes with the prawns to the rice and stir for a few minutes. . Then serve the risotto, grate the bottarga and decorate with a little chopped parsley.
Buon appetito!!
Add to Favourites