Spaghetti with citrus fruits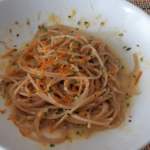 Spaghetti agli agrumi.
This recipe is very light, low in calories but very tasty!
If you want a creamier version then you can add a little cream.
Ingredients
Instructions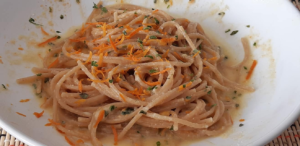 Spaghetti with citrus fruits
Ingredients:
400 g of spaghetti
orange juice and zest
lemon juice and zest
extra virgin olive oil
4-6 cloves of garlic
spring onions
salt, pepper, chilli pepper to taste
grated parmesan
chopped parsley
optional cooking cream
Method:
Cook the pasta in abundant salted water.
Prepare a delicate sauté of garlic and spring onions in a pan.
Pour the citrus juice and add the chilli pepper.
Let the sauce shrink for a few minutes.
Stir the spaghetti al dente with the sauce and decorate with parsley, peel of citrus fruits and parmesan.
Buon appetito!!
Add to Favourites