Gnocchi with mushroom cream and sausage ragù.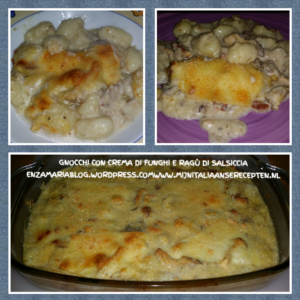 Gnocchi con crema di funghi e ragù di salsiccia
Gnocchi with mushroom cream and sausage ragù.
This is a very tasty winter recipe. It is a dish for Sunday to spend with the family.
My grandmother called them baked dumplings with white ragù and cooked them in a wood oven ...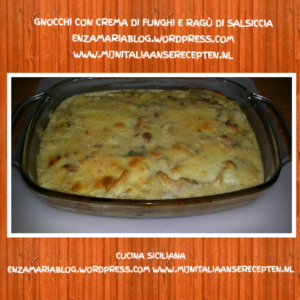 Ingredients
Instructions
Gnocchi with mushroom cream and sausage ragù.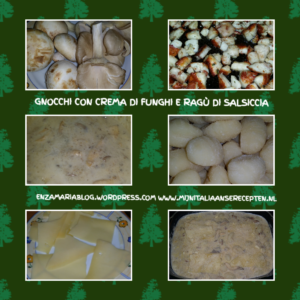 Ingredients:
1 kg of dumplings
Bechamel to taste
500 gr of mixed mushrooms
2 knots of sausage
Emmental cheese
1 tablespoon of gorgonzola
1 clove of garlic
1 shallot
1 glass of white wine
Breadcrumbs to taste
Grated Parmesan cheese
Parsley
Olive oil
Salt and pepper
Method :
Prepare the bechamel and add the spoonful of gorgonzola.
Sauté the mixed mushrooms with garlic, oil, salt and pepper. Add the white wine. Sprinkle with parsley and turn off the heat.
Crumble the sausage and cook it in a pan with the oil, the shallot and add the white wine. Leave to flavor for a few minutes and turn off the heat.
Cook the gnocchi in salted water.
Put some mushrooms in the mixer with a little bechamel and blend.
Then in a bowl mix the gnocchi with the mushroom cream, the sausage and the pieces of emmental cheese.
At this point in a pan, add the seasoned mushrooms and the leftover béchamel to the seasoned gnocchi.
Sprinkle with the grated Parmesan and a little breadcrumbs.
Bake at 200 degrees for about 25 minutes.
Remove from the oven and serve ....
Enjoy your meal!
Add to Favourites