Green bean, potato, tuna and boiled egg salad
Insalata di fagiolino patate tonno e uova sode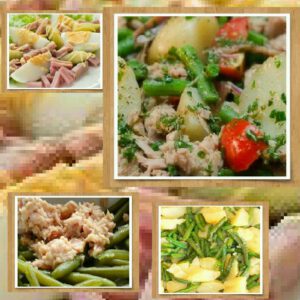 Green bean, potato, tuna and boiled egg salad
Here is a nice Italian salad which in summer becomes a nice single dish, perhaps to be eaten by the sea or during a mountain picnic.
Ingredients
Instructions
Green bean, potato, tuna and boiled egg salad
Ingredients:
1kg of green bean
1kg of potatoes
4 boiled eggs
Canned tuna
Cherry tomatoes
olive oil
lemon
balsamic vinegar
garlic
basil
parsley
Origan
salt and pepper
mayonnaise to taste
Method:
Boil the potatoes and green beans. Also boil boiled eggs. Let it cool completely. In a salad bowl, put the boiled green beans, the potatoes cut in half, the hard-boiled eggs, the tuna and some tomatoes. Season with olive oil, lemon, a little balsamic vinegar, garlic, basil or parsley, oregano, salt and pepper.
Mix well and add a spoonful of mayonnaise.
So let it rest in the refrigerator for at least half an hour before serving.
Buon appetito!!
Allergens
Allergens
Add to Favourites