Pistachio meat rolls
Pistachio meat rolls are a traditional sicilian family recipe….
Easy and delicious, we can create a great dinner for our guests!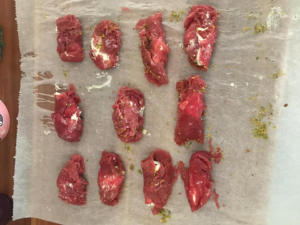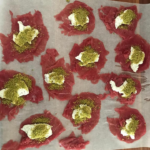 Involtini di carne al pistacchio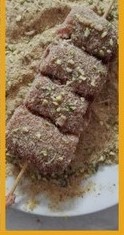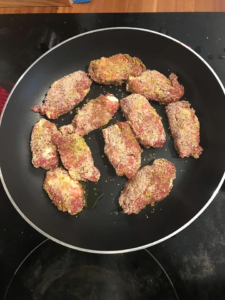 This is my family recipe in a tipical summer family Sunday lunch!
Ingredients
Instructions
Pistachio meat rolls
Ingredients:
500 gr of thinly sliced ​​beef slices
150 gr of pistachio grain
100 gr of pistachio pesto
300 gr of breadcrumbs
fresh parsley
fresh basil
soft spreadable cheese or 100 gr of provola
1 clove of garlic
3 tablespoons of grated Pecorino
olive oil
salt and pepper
Method:
Prepare the breading for the pistachio rolls.
Pour 300gr of breadcrumbs into a bowl and season with salt, the crushed garlic clove, the grated cheese, the pistachio grains and a few tablespoons of pistachio pesto, until obtaining a moist and easily workable mixture. Not dry.
Place in the center of each slice of meat, about a teaspoon of pistachio breadcrumbs and a small piece of provola or spreadable cheese.
Turn the two outer sides of the meat towards the filling and then begin to roll up, starting from the bottom, until it forms a small roll. With this trick, the filling will not come out and will be retained by the meat itself.
You can skewer pistachio rolls on wooden sticks.
Proceed in this way, until all the available ingredients are finished.
At the end, brush the rolls with olive oil and then pass them in the remaining breadcrumbs, if necessary add a pinch of salt and other pistachio grains.
Cook the rolls on the grill, or in the oven or on a grill pan. Turn them during cooking must turn golden, on both sides. Serve the rolls immediately after, hot and stringy.
Enjoy your meal!!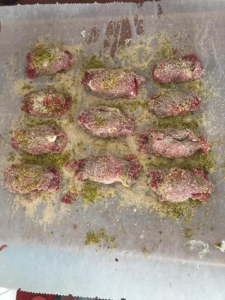 Add to Favourites