Salmon risotto with crab meat and prawns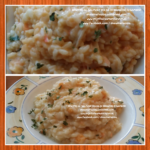 Risotto al salmone polpa di granchio e gamberi
A creamy risotto with a delicate flavor based on salmon, crab meat and prawns.
A tasty recipe that children like too.
Ingredients
Instructions
Salmon risotto with crab meat and prawns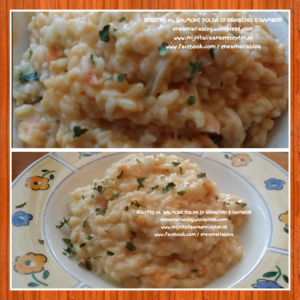 Ingredients:
400 gr of rice
200 gr of smoked salmon
16 prawns
150 gr of crab meat
2 tablespoons of tomato sauce
Chopped shallots
Half a glass of white wine
1 tablespoon of limoncello or vodka
Vegetable broth
100 gr of philadelfia / cooking cream
Parsley
Olive oil
Salt and pepper
Butter nut and grated Parmesan cheese for creaming.
Method :
Toast the rice with the olive oil and the minced shallot. Deglaze with white wine and add the vegetable broth.
Separately stir-fry the prawns and the crabmeat with olive oil. Deglaze with a little limoncello or lemon vodka. Add a little tomato puree to color, salt and pepper. Put out the fire.
Halfway through cooking the rice, add the smoked salmon, the prawns and the crabmeat sautéed.
Add the philadelfia or the cream, stir and turn off the heat.
Stir the rice with a little butter and the grated Parmesan.
Sprinkle with the chopped parsley and serve.
Buon appetito!!
Add to Favourites