Cuttlefish ink spaghetti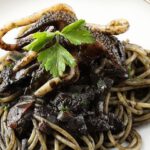 Spaghetti al nero di seppia
Cuttlefish ink spaghetti
In the following recipe, the cuttlefish ink sauce is enriched with tomatoes, I recommend choosing the San Marzano DOP variety, or alternatively the peeled tomatoes.
Ingredients
Instructions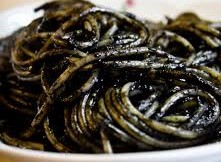 Cuttlefish ink spaghetti
Ingredients:
400 g of spaghetti
6 g of cuttlefish ink
4 squid
4 San Marzano tomatoes (or 4 peeled)
1 teaspoon of tomato paste
2 cloves of garlic
1/2 onion
2 tablespoons of extra virgin olive oil
a few leaves of fresh parsley
Salt and Pepper To Taste.
1 fresh red pepper (optional)
Method:
Wash the squid, remove the skin, the eye and the tooth (if they have not already been cleaned by the fishmonger) and cut them into strips. Chop the garlic and onion and prepare a stir-fry in a pan, taking care not to burn them. Cut the tomatoes into cubes and add them to the sauté, then add the squid and cook for about 10 minutes. Then add the tomato paste and cuttlefish ink and cook for another 3-5 minutes. Arrange salt (not too much since the cuttlefish ink is quite savory), pepper and chilli pepper and cover with the lid. Cook the spaghetti in abundant salted water according to the cooking times indicated on the package, it is better to leave them al dente and then continue cooking in the pan with the sauce. Before serving, decorate the serving dishes with fresh chopped parsley.
Buon appetito!!!
Add to Favourites