Eggs in purgatory with peppers.
We added peppers to the traditional recipe ….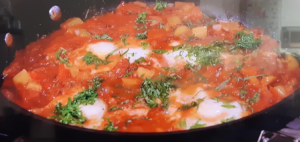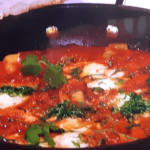 Uova in purgatorio con i peperoni
Eggs in purgatory with peppers.
This traditional Italian recipe is very popular in all Italian regions, from north to south!
These eggs are prepared in minutes and are an excellent last minute dinner.
Ingredients
Instructions
Eggs in purgatory with peppers.
Ingredients:
4 eggs
tomato sauce
chopped peppers already cooked
50 gr of fontina cheese
garlic
basil
parsley
olive oil
salt and pepper
Method:
In a pan, brown the garlic with olive oil, then add the tomato puree, salt and pepper, basil.
Stir and add the peppers already cooked. Leave to flavor for 5 minutes then
add the eggs and cover with the lid.
After 10 minutes add the fontina cheese and finish cooking for another 5 minutes.
Parsley for garnish.
Buon appetito!!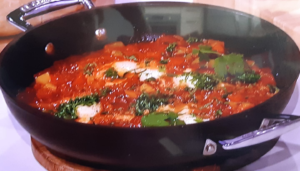 Add to Favourites