Today I propose you my light recipe that is very easy to prepare inexpensive and very tasty.
Zucchini with pizza sauce.
Suitable for everyone and gluten-free, my vegetarian courgettes are excellent for both lunch and dinner.
You can season the pasta with the delicious sauce or make the shoe ….
Serve my pizzaiola courgettes with garlic, oil and chilli bruschetta, it will be a hit!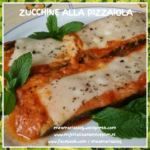 Zucchine alla pizzaiola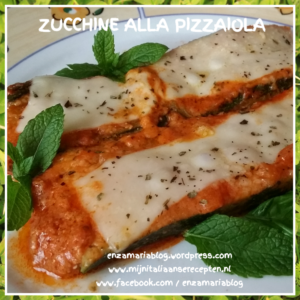 Zucchini with pizza sauce
Ingredients
Instructions
Zucchini with pizza sauce
Ingredients:
2 courgettes
1 chopped onion
1 whole garlic clove
1 cup of tomato sauce
Basil
1 tbsp pesto
100 gr of light or emmental mozzarella
50 gr of grated Parmesan
Origan
Olive oil
Salt and pepper
Method :
Cut the courgettes into slices, half a centimeter thick, for their length.
Grill the courgettes for a few minutes.
In a large non-stick pan, brown the chopped onion with olive oil and garlic. Add the slices of courgettes and cook.
Add the tomato puree, pesto, basil, salt and pepper.
Cook over low heat, with the lid, for 20 minutes, turning the courgettes once per side.
At the end of cooking, put the cheese or mozzarella on top of the courgettes, sprinkle with the grated Parmesan and season with the oregano.
Cover with the lid and turn off the heat.
Let it sit for a few minutes.
Serve lukewarm and stringy.
Buon appetito!!
Add to Favourites