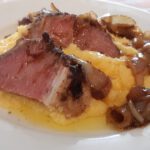 Brasato di carne con polenta e cipolla caramellata – Braised meat with polenta and caramelized onion
Ingredients
Instructions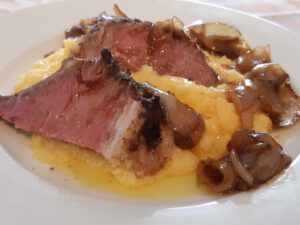 Ingredients:
1 kg of beef
500 gr of onions
2 carrots
celery
laurel
rosemary
sage
vegetable broth
half a glass of red wine
1 tablespoon of sugar
1 tablespoon of balsamic vinegar
polenta
water
olive oil
salt
pepper
Method:
Brown the meat in a large pan with oil, onion, carrot and celery.
Add the salt and pepper, laurel leaves, rosemary and sage.
Pour the red wine and cook the meat with the vegetable broth for about two hours on a low heat.
In the meantime, caramelize the onions by cooking them in salted water for 30 minutes and when the water is absorbed, add the sugar and balsamic vinegar.
So cook and mix the polenta in salted water for about 30 minutes.
Flavored polenta with the spices used for meat.
Cut the meat into slices.
Serve immediately the polenta with the meat and the caramelised onions.
Enjoy your meal!!
Add to Favourites