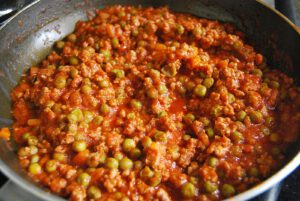 In Italian cuisine, ragù is a meat-based sauce that is commonly served with pasta. Ragù was created by Alberto Alvisi in the 18th century. An Italian gastronomic society, Accademia Italiana della Cucina, documented several ragù recipes.The recipes' common characteristics are the presence of meat and the fact that all are sauces for pasta. The most typical are ragù alla bolognese (Bolognese sauce). Other types are ragù alla napoletana (Neapolitan ragù), ragù alla siciliana and ragù alla Barese (sometimes made with horse meat).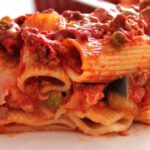 Ragout
Ingredients
Instructions
Ingredients:
500 gr of ground beef
2 Medium carrots
1 Medium golden onion
Celery
50 grams of green peas
1 Spoon of Tomato Concentrate
Extra virgin olive oil q.b.
1 Glass of Red Wine
700 ml of Passata di Pomodoro
750 ml of water
salt
Nutmeg powder q.b.
Sugar (at least a teaspoon, if necessary)
Method:
Chop carrot, celery and onion in a blender, sauté with extra virgin olive oil. Sauté and add the ground beef, peeling it and blending it with red table wine. Add the peas and the tomato puree, the same content in water, then add the tomato paste, salt, nutmeg and cook on a low flame for at least two full oretta for sure, correct the sour with little sugar (if there should be need), make it shrink in a dense way to season pasta.
On the contrary, if it should be used for baked pasta or rice, remove it from the heat when it is a little more liquid than consistency.
Sicilian ragù can be kept in special containers, in the fridge, even for two or three days; this storage should be carried out at any time of the year, and in any case always after it has cooled to room temperature.
Add to Favourites