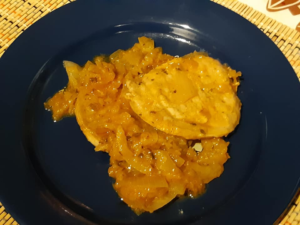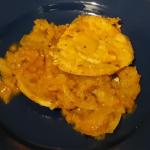 Lonza di maiale al mango
Ingredients
Instructions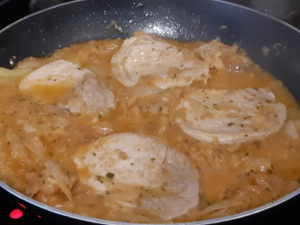 Mango pork loin
Ingredients:
300 gr pork loin slices
a chopped red onion
a spoonful of ginger
2 mangoes
2 teaspoons chopped red chilli pepper
1 tablespoon of lemon juice
2 tablespoons of extra virgin olive oil
salt and pepper
Preparation:
Heat the oil in a pan and brown the onion. Peel the ginger and grate it.
Pitted the mango, remove the peel and mince in cubes. After that, you can add the mango, ginger, chili pepper, salt and pepper, and mix until you get a creamy mixture. At this point, you can pour 2 tablespoons of lemon juice into it and cook for another 10 minutes, adding a little water if necessary.
On a very hot plate, cook the loin slices for a few minutes, leaving each side to brown. As soon as the meat is ready, you can serve it together with the mango cream.
Enjoy your meal!
Add to Favourites