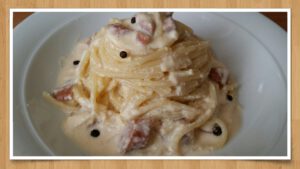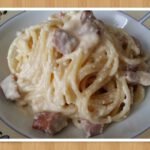 Spaghetti carbonara - traditional recipe
Ingredients
Instructions
Boil a pot of water and add the spaghetti.
While the pasta is cooking, cut the bacon into cubes or strips after removing the rind.
Heat a non-stick frying pan and sauté the not very thin cut pillow, without adding any other fat.
Turn off once it has become crunchy. Meanwhile, let's take care of the sauce. One of the rules for doses is to put one yolk apiece (only the yolk, I recommend!) And a whole egg. With this dosage the dough will be beautifully creamy, but if you want to lighten it, you can also reduce the amount of eggs.
Beat with a fork and add the pecorino and grated cheese, mixing well until the consistency is not creamy. The cooking water will then make it liquid.
Finish off with plenty of pepper, preferably freshly ground. We have finally reached the final stages. Skip the pasta in the fat released from the pillow, adding a little cooking water to facilitate the release of the starches. Remember to set aside a ladle of cooking water, which if served later will help the sauce to be beautifully creamy. Add the egg and pecorino cream to the pasta with the guanciale, performing this operation out of the fire and after waiting a minute, and once the sauce has been placed, add the cooking water and stir.
or turning quickly with a wooden spoon: in this way the egg will cook you do not, and will not give life to the classic pancake effect. Finish the dish with a sprinkling of cheese and freshly ground pepper.
Enjoy your meal!
Add to Favourites