Grilled meat rolls with cheese and ham
This recipe from my mom takes me back to my childhood and the traditions of my land … Sicily.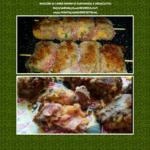 Involtini di carne alla griglia ripieni di formaggio e prosciutto.
Ingredients
Instructions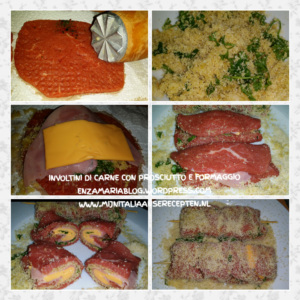 Grilled meat rolls with cheese and ham
Ingredients:
12 Slices of rump or veal nut
150 gr of cooked ham
150 gr of caciocavallo
Bread crumbs
Chopped parsley
Grated Parmesan cheese
A teaspoon of pesto
Salt and pepper
Olive oil
Method :
Beat the slices with the meat tenderizer
Stuff the meat slices with the cooked ham and caciocavallo. Then roll up and close with a toothpick.
Then in a bowl mix the breadcrumbs with the grated Parmesan, the pesto and the chopped parsley.
Then pass the rolls in olive oil, and in the breading (breadcrumbs, grated parmesan and chopped parsley). Salt and pepper.
Grill on both sides.
Serve hot.
Enjoy your meal!
Add to Favourites