Sicilian sweet and sour pumpkin
My mom's recipe for Sicilian sweet and sour pumpkin.
This recipe calls for fried pumpkin, but we can also cook it on the grill.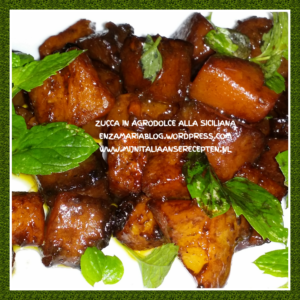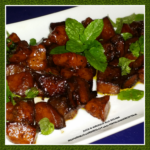 Zucca in agrodolce alla siciliana
Sicilian sweet and sour pumpkin
Ingredients
Instructions
Sicilian sweet and sour pumpkin
Fried pumpkin
Fried Pumpkin Ingredients:
1 diced pumpkin
White vinegar
1 teaspoon of sugar or honey
mint leaves
olive oil
salt
Fried pumpkin procedure:
Cut the pumpkin into medium-thick cubes.
Fry in olive oil and when cooked, put the pumpkin cubes on paper towels.
Put the pumpkin back in an oil-free pan, sauté it for a few minutes with a little vinegar and sugar. Decorate with a few mint leaves.
Serve the pumpkin cold because it is even more delicious.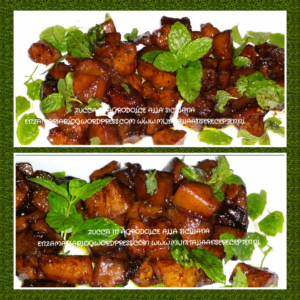 Grilled pumpkin
Grilled pumpkin ingredients:
1 pumpkin cut into slices
Olive oil
Fresh mint
Parsley
1 clove of garlic
Balsamic vinegar
Salt and pepper
Grilled pumpkin procedure:
Grill the pumpkin slices.
Prepare the marinade with olive oil, balsamic vinegar, garlic, parsley, fresh mint, salt and pepper.
In a serving dish, pour the marinade on the slices of pumpkin and leave to rest in the fridge for about an hour.
Enjoy your meal!
Add to Favourites