Meat rolls with tomato sauce
This recipe from my mom has two versions: one with the sauce and the other with the grill.
In both meat rolls they are stuffed with cheese and ham.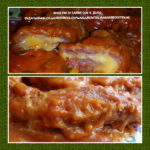 Involtini di carne con il sugo
Meat rolls with tomato sauce
Ingredients
Instructions
Meat rolls with tomato sauce
Ingredients:
12 Slices of rump or veal nut
150 gr of cooked ham
150 gr of caciocavallo
Tomato sauce
Basil
1 chopped onion
Half a glass of red wine
Flour to taste
Olive oil
Salt and pepper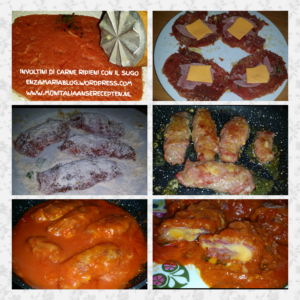 Method :
Beat the slices with the meat tenderizer.
Stuff them with cooked ham and caciocavallo.
Then roll up and close with a toothpick.
Pass the rolls in the flour and in a pan with the olive oil and chopped onion.
Brown and blend with the wine.
Salt and pepper.
Add the tomato puree and basil and cook for about 30 minutes.
Enjoy your meal!
Ps: try to enrich the filling by adding boiled egg and spinach ... A king dish!
Add to Favourites