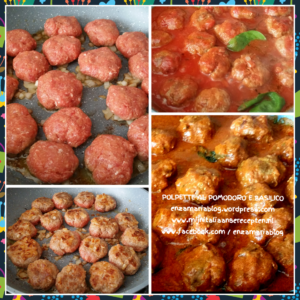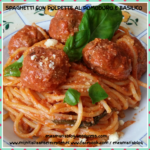 Prep Time: 40 minutes minutes
Cook Time: 30 minutes minutes
Serving: For 4 People
Print
Spaghetti with Meatballs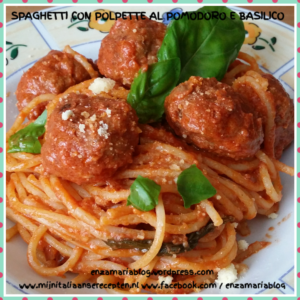 Polpette al pomodoro e basilico. Spaghetti con polpette al pomodoro e basilico.
This recipe is a classic dish of my Sicilian cuisine.
It's a family recipe and my baby is crazy about it.
Ingredients
Instructions
Mix all the ingredients and form meatballs.
In a non-stick pan, brown the chopped onion and the chopped garlic in olive oil, add the meatballs and brown them.
Add the white wine and add the tomato puree, basil and mint.
Season with salt and pepper.
Add very little water and cook over low heat for about 20 minutes.
When the sauce is thick, add some more fresh basil and turn off the heat. Let the lid stand for a few minutes before serving.
Cook the pasta al dente and drain.
Stir in the tomato and basil sauce.
Turn off the heat and add a beaten egg yolk, grated Parmesan and other fresh basil. Mix well and let stand with the lid for a few minutes.
Serve the spaghetti with meatballs.
Enjoy your meal!
Add to Favourites